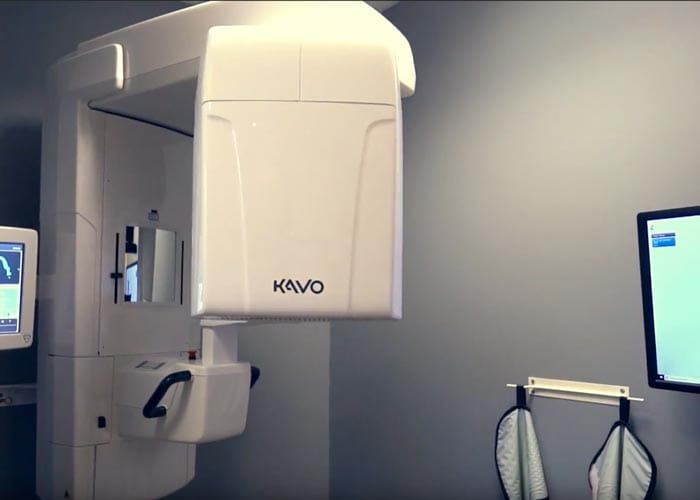 Our Grand Rapids dentists use the latest dental technology to improve your experience as a patient and provide the best possible care.
We pride ourselves on offering quality dental care for patients of all ages, which is why we invest in state-of-the-art dental technology.
Some of our dental technology is listed below, from digital dental x-rays to air abrasion. Please contact us today if you have any additional questions!
Types of Dental Technology
Our dental technology includes:
Digital X-Rays
Panoramic X-Rays
Intraoral Camera
Soft Tissue Lasers
Hard Tissue Lasers
Cavitron
Intraoral Scanner
Cone Beam Imaging
Rotary Endodontics Handpiece
Air Abrasion
Digital X-Rays
Our dentists use digital dental X-rays to take highly precise images of your teeth. These images are then sent to our computer where we're able to magnify and enhance your dental X-rays to better diagnose and treat conditions affecting your oral health. Unlike traditional film-based X-rays, digital X-rays expose you to far less radiation. This is just one of the many ways we look out for our patients.
Panoramic X-Rays
A panoramic X-ray machine rotates around your head to take a 360-degree view of your teeth, sinuses, and bone structure. Since panoramic X-rays are more comprehensive than standard dental X-rays, you won't need them as often. Our dentists may take panoramic dental X-rays to diagnose oral health conditions or plan treatment. We also take panoramic X-rays every few years as part of your preventive care.
Intraoral Camera
Our dentists use an intraoral camera to take pictures of your teeth, gums, tongue, and the rest of your mouth. Unlike older dental technology, the intraoral camera has a slim design that allows our dentists to view the inside of your mouth from a wide range of angles. We're able to digitally store, print, or delete the images captured by our intraoral camera.
Soft Tissue Lasers
We may use our soft tissue lasers to make incisions along the gums. One of the main advantages of using soft tissue lasers is that they cauterize as they cut to decrease pain and recovery time for the patient. By using laser dentistry, we're often able to make more precise incisions so treatments are less invasive.
Hard Tissue Lasers
Depending on the size and location of a cavity, we may use hard tissue lasers to remove it. Hard tissue lasers are able to precisely cut through tooth structure. Compared to older dental technology, hard tissue lasers are perfect for minimally invasive procedures. Patients are often able to enjoy faster recovery times when we use hard tissue lasers.
Cavitron
Our dentists use the Cavitron during scaling and root planing to gently remove tartar from your teeth and gums. The Cavitron uses an ultrasonic dental technology to efficiently remove tartar. If left untreated, tartar buildup can lead to advanced gum disease, receding gums, and even tooth loss. Fortunately, the Cavitron decreases the amount of time you have to spend in the dentist's chair while reducing any discomfort felt during deep periodontal cleaning.
Intraoral Scanner
In the past, dentists had to use pink putty in trays to take impressions of your teeth. Not only was this uncomfortable, but it also tested your gag reflex. Today, our dentists use the noninvasive intraoral scanner to take precise 3D dental impressions. We may use the intraoral scanner to take digital dental impressions for crowns, inlays, onlays, implants, and other tooth restorations.
Cone Beam Imaging
Our dentists use cone beam imaging to take 3D images of the underlying structures in your jaws and face. We often use this dental technology to diagnose oral conditions, educate patients, plan treatment, and follow up after procedures. Since cone beam imaging is minimally invasive, it's great if you have a high gag reflex or dental anxiety. Offering cone beam imaging is just one of the many ways we look out for our patients.
Rotary Endodontics Handpiece
Our dentists use a rotary endodontics handpiece during root canal therapy to gently and efficiently remove diseased dental pulp. Dental pulp is the living tissue inside your tooth. However, once a cavity is deep enough to breach the innermost layer of your tooth, you'll need a root canal. Using the rotary endodontics handpiece allows us to streamline root canal therapy so you can spend less time in the dentist's chair.
Air Abrasion
Our office is equipped with modern air abrasion technology. We use a small handheld device to blow a stream of air and tiny aluminum oxide particles against your tooth. Air abrasion in dentistry can be used to safely blast away tooth decay and remove surface stains. Air abrasion may also be used as part of a cosmetic or restorative treatment to prepare a tooth for bonding or to repair cracked or worn teeth.
Learn More
Our dents have the skills, experience, and technology necessary to help you achieve a bright, healthy smile. To request an appointment with one of our Grand Rapids, MI dentists, call Bander Dental Group at (616) 949-5980.